Our Milder Hot Honey is a sweet treat with mild heat. The combination of
Raw honey with Chipotle & peppers creates a thrilling surprise.
Great on: Fried Chicken, Fried Pickles, French Fries, Seafood, Shrimp, Crabs, Roasted, Veggies, Roasted Carrots, Dips & Dressings, Salads & Fruits, Cereal, Oatmeal, Eggs, Yogurt, Cheese, Ice Cream, Pizza or Ribs, Mexican Foods, Machaca, Discada tacos, Burritos, Salsa, Fried Plantains, Oriental Food,Szechuan, Hunan, Chongqing, Beijing Roasted Duck, Cocktails, & Teas
All our honey is natural pure raw honey.
12 oz daily use size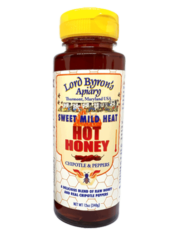 2 pack
$12.79 ea
($25.58 for 2 pk)
4 pack
$12.49 ea
($49.96 for 4 pk)
6 pack
$12.00 ea
($72.00 for 6 pk)
12 pack
$11.79 ea
($141.48 for 12 pk)
Flat rate shipping $9.29!