Thurmont Hills produce profoundly delicious honey.  Why?
At the foothills of the Catoctin Mountains near Thurmont, MD, is one of the richest sources of nectar in the region. Our Honey Bees forage on the abundance of Tree Blossoms, Herbs, and Wildflowers. Our Honey is taken directly from the bee hives and processed the old-fashioned way, with little heat and straining used in the extraction process. The result is a Natural Pure Raw Honey, that contains all the Natural Health Benefits. It's no secret that Raw Honey has been used worldwide since early man to improve digestion, soothe sore throats, coughs, burns, wounds, and many other health conditions.
We sell Bee Pollen in Jars & Bulk by lb. bags.
Resident BeeKeeper and Owner / Bee Activist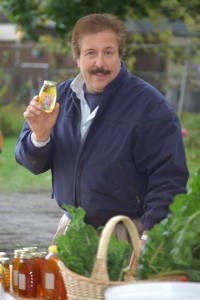 Posted:Frederick News Post  Thursday, November 27, 2014  
Byron Rice works to ensure the Maryland honey industry is vibrant. The Thurmont beekeeper has fostered legislation that ensures the honey industry is treated fairly in the wake of imported honey, which he said often doesn't measure up to American honey.
The honey farmer is counting his blessings this time of the year. He is most thankful for the holiday season of Thanksgiving, Rice said.
"I'm grateful for this time to reflect and to count the many blessings that have been given to us," said Rice, owner of Lord Byron's Honey. "We're often so busy with our own lives and rarely have the chance to slow down to recognize how fortunate we are.
Articles