Pollen goes unnoticed by most of us, except when hay fever strikes, but Pollen also offers many health benefits and is what Honey bees use to make Honey.  Also microscopes reveal pollen comes in many stunning colors and shapes.
The term pollen source is what beekeepers use to identify flowers that are source of pollen for bees.
Bees collect pollen to make a protein rich food to raise their offspring.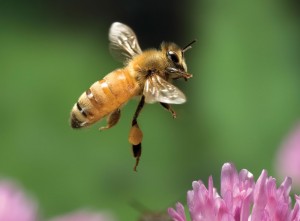 This is critical for the reproductive process of the plant. For the plant, the bee becomes a pollinizer and distributes its pollen. Very few flowering plants self-pollinate. The vast majority of plants, including most food crops, require a pollinator to move the pollen. There are some that rely upon on cross-pollination from a genetically different source. Without the pollinators' activity, the plants would become extinct. Honeybees are one of the critical pollinators assisting in cross-pollination. This article discusses the pollen source from a beekeeping point of view.
The pollen source in an area is the result of the type of plants and flowers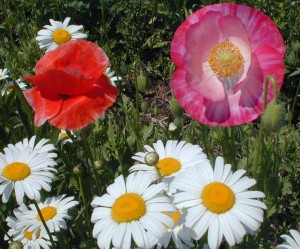 The pollen source in an area is the result of the type of plants and flowers growing in an area and how long the bloom period might be. The type of vegetation that will grow in an area depends on soil texture, soil pH, soil drainage. The amount of rain, daily maximum and minimum temperatures, how cold and how long the winter period and the number of peak growing days. The plants listed below are plants that would grow in USDA Hardiness 5. A formula to predict when a plant will bloom and produce pollen is used based on the number of peak growing days.
The color of the pollen
The color of the pollen in the chart shows the color of the pollen freshly arrived at the hive. Bees take nectar and/or honey and mix it with the pollen and press it into a pollen basket located on the back legs of honeybees. This dry pollen is food for the bees and contains significant amounts of protein fat starch, vitamins, but little sugar. This food source is much needed for the development of the larval stage to adult worker bees. The average bee colony can collect over 100 pounds of pollen a year.
Common name
Latin name
In Bloom
Pollen color
Availability
Source for honeybees
Maple
Acer spp.
Feb – Apr
light yellow
feral
fair
Manitoba Maple (Box elder)
Acer negundo
Feb – Apr
light olive
feral
good
Norway maple
Acer platanoides
Apr – May
yellow green, olive
feral
fair
Red Maple
Acer rubrum
Mar – Apr
grey brown
feral
Grey Alder
Alnus incana
Feb – Apr
brownish yellow
feral
American Chestnut
Castanea dentata
May – Jun
mostly ornamental
Common Hackberry
Celtis occidentalis
Apr – May
feral
Flowering Quince
Chaenomeles japonica, Chaenomeles lagenaria, Chaenomeles speciosa 'Nivalis', Chaenomeles x superba
Apr – May
feral
good
American Hazel
Corylus americana
Mar – Apr
light green
feral and ornamental
fair/good
Hawthorn
Crataegus spp.
Apr – May
yellow brown
feral
fair
White Ash
Fraxinus americana
Apr – May
Honey Locust
Gleditsia triancanthos
May – Jun
feral
American holly
Ilex opaca
Apr – Jun
feral
Walnut
Juglans spp.
Apr – May
cultivated
fair
Tulip-tree
Lirodendron tulipifera
May – Jun
cream
feral and ornamental
good
Crab Apple
Malus spp.
Mar – Jun
light olive
ornamental
Apple
Malus domestica, Malus sylvestris
Apr – May
yellow white
cultivated and ornamental
very good
American Sycamore
Platanus occidentalis
Apr – May
light olive
feral
Plum
Prunus spp.
Apr – May
light grey, grey
ornamental and cultivated
Almond
Prunus amygdalus
Feb
light brown to brown pollen – not considered a good pollen source but bees are the primary pollinator
cultivated mostly in California
fair
Wild Cherry
Prunus avium
Apr – May
yellow brown, light brown
feral
very good
Cherry Plum
Prunus cerasifera
light brown to brown
feral
fair
Sour Cherry
Prunus cerasus
Apr – May
dark yellow
ornamental and cultivated
very good
Peach
Prunus persica
Apr – May
reddish yellow
ornamental and cultivated
good
Black Cherry
Prunus serotina
Apr – May
feral
minor
Blackthorn
Prunus spinosa
Mar – May
firebrick
feral
good
Pear
Pyrus communis
Apr – May
red yellow
ornamental and cultivated
good
Oak
Quercus spp.
May
feral
Oak
Quercus robur, Quercus pedunculata
May
light olive
feral
minor
Black Locust
Robinia pseudoacacia
May – Jun
feral
Blackberry
Rubus spp.
May – Jun
light grey
feral and cultivated
Raspberry
Rubus idaeus
May – Jun
white grey
feral and cultivated
good
Willow
Salix spp.
Feb – Apr
lemon
feral
good
White Willow
Salix alba
feral
good
Goat Willow
Salix caprea
Mar – Apr
feral
very good
Violet Willow
Salix daphnoides
Mar – Apr
feral
very good
Pussy Willow
Salix discolor
Mar – Apr
feral and ornamental
Basket Willow
Salix purpurea
Mar – Apr
feral
very good
Silky leaf osier, Smith's Willow
Salix x smithiana
Apr – May
very good
American mountain ash
Sorbus americana
May-Jun
feral
American Elm
Ulmus americana
Feb – Apr
light grey
feral
Winged Elm
Ulmus alata
Feb – Mar
pale yellow
feral
good
Europea field elm
Ulmus americana
feral
good
http://en.wikipedia.org/wiki/Pollen_source
Plant pollination process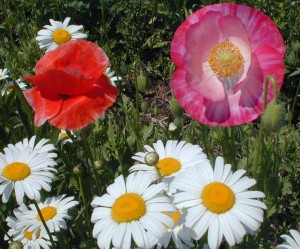 The plant pollination process describes the vital method of sexual reproduction in plants. It enables a plant to bear fruit and seeds, many of which are not only eaten by humans, but also by other living species from birds to mammals. Birds and mammals may then distribute those seeds to new geographical locations through their droppings.