Bee pollen is referred to as nature's most complete food.
Bee Pollen is rich in vitamins, minerals, amino acids and a complete source of protein, it is nature's most complete food.  Greatas an all-around nutritional supplement, bee pollen is ideal for daily use.
Bee pollen is said to rejuvenate the body, stimulate organs and glands, even increase energy and promote longer life span. This is particularly popular quality among the athletic community" According to Steve Schecter N.D.
Eating bee pollen is a practice as old as Humanity itself. There are documented records of bee pollen as food in ancient writings that came from Egypt and China, the Bible, and other religious books. It has a lengthy history of being recommended by traditional health practitioners. There is evidence that the ancient Greek medical doctors, Hippocrates, Pliny the Elder, and Pythagoras- recommended it for its healing properties. Bee pollen is said to rejuvenate the body, stimulate organs and glands, even increase energy and promote longer life span. This is particularly popular quality among the athletic community" According to Steve Schecter N.D. "Bee pollen's ability to consistently and noticeably increase energy levels makes it a favorite substance among many world class athletes and those interested in sustaining and enhancing quality performance."
Most Common Uses of Bee Pollen:
Strengthening Immunity Functions
Children's Physical & Brain Development
Asthma
Adrenal Fatigue
Fertility Booster
Weight Management
Choleserol and Triglyceride Reduction
Relieve Diabetic
Symptoms
Skin Related Ailments, eg ezcema, hives, rashes.
Longevity
Treats Allergies
Increases in strength
Acts to normalize cholesterol and triglyceride levels in the blood
Bee Pollen benefits and facts:
Russian biologist Prof. Nicolai Vasilievich Tsitsin, was an experimental botanist at the Longevity Institute, and he tried to discover why so many natives of Georgia, formerly of the Soviet Union, reportedly lived to upwards of 125 years old.  Many of these 100 plus year old citizens eat raw unprocessed Honey rich in bee pollen. "All of the 200 or more people past 125 years of age in Georgia, without exception, state that their principal food is pollen and honey – mostly pollen. Long lives are attained by bee pollen users. Bee pollen is one of the original treasure houses of nutrition and medicine. Each grain contains every important substance necessary to life." said Prof. Tsitsin. Naum Petrovich Joirich, M.D., head scientist at the Longevity Academy in Vladivostak, It is said that Bee pollen contains all the nutritional components needed to sustain life. The amount of purported rejuvenating elements in bee pollen exceeds those thought to be present in brewer's yeast and wheat germ. Bee pollen can correct some of the nutritional shortcomings found in an unbalanced diet, a result of our present-day civilization's practice of consuming chemically treated incomplete foods, which expose us to a wide variety of physiological problems..
While many foods have been hailed as "perfect", the one that is rarely mentioned is bee pollen.  Worldwide studies indicate that the pollen collected by bees from the stamen of flowers is worth its weight in gold. Bee pollen contains 22 amino acids (and higher amounts of the eight essential ones than most high-protein foods), 27 mineral salts, the full range of vitamins, hormones, carbohydrates, and more than 5,000 enzymes and coenzymes necessary for digestion and healing. Bee pollen is also rich in the bioflavonoid rutin (important for capillary strength) and in vitamin B12. Be pollen one of the few vegetable sources of this vitamin. Some observations indicate that bee pollen may prevent cancer. Researchers such as The Sloan-Kettering Institute for Cancer Research in New York City have been studying effects of bee pollen, royal jelly and bee venom on cancer for some time.
Bee pollen is often recommended as a general treatment for many things and as a high source of nutrition.  Its abundance of these nutrients may help contribute to overall good health and energy.  It also helps prevent the symptoms associated with hay fever, like sneezing, eye-watering, runny nose and other allergy-related ailments. Finally, bee pollen can be taken as a fat loss supplement. It contains lecithin which flushes fat from the body and also improves the metabolism in a way that burns calories more quickly.
Bee Pollen as a Superfood: By Dr. Joseph Mercola.  Bee Pollen is known to contain all of the nutrients needed to sustain life. There have even been studies of generations of mice have been born and lived on bee pollen exclusively, with no signs of malnourishment. Bee Pollen has high concentrations of the B vitamin complex, and also contains Vitamins A, C, D, and E. Its composition is: approximately 35% protein, 55% carbohydrates, 2% fatty acids, and 3% minerals and vitamins. Bee pollen is often taken for increasing energy and vitality.
 
Bee Pollen is also used to bolster immune function, and for detoxifying the body.  There have also been a number of clinical trials with respect to its promising ability to ward off cancerous tumors in mice.
Athletes use bee pollen for endurance and strength, as well promoting a clear mind. A number of Olympic professional athletes have attributed their improved energy and stamina to regular bee pollen use. In
Studies show it helps in allergy relief.  Bee pollen protect against allergens affecting hay fever and even asthma. Ullrich Wahn, M.D., a researcher at Heidelberg University Children's Clinic in Germany, studied 70 children with hay fever and allergy-related asthma. He fed them during the annual hay fever period and three days weekly during the winter a solution of bee pollen and honey daily. The vast majority of the children presented fewer symptoms after following this regimen.
Bee pollen helps with menstrual pain and irregularities. A double-blind study of Bogdan Tekavcic, M.D., chief of the Ljubljana Center for Gynecology in Yugoslavia, bee pollen helped with menstrual pain and irregularities. Half of the women in the study were given a mixture of bee pollen and royal jelly, and the other half a placebo. As opposed to the placebo group that showed little or no pain, almost all the women taking bee products demonstrated vast improvement or total disappearance of menstrual pain.
Other experiments reveal that bee pollen is an amazing biological catalyst with healing properties. In his book Sexual Nutrition, Morton Walker describes the effects of bee pollen on both animals and humans with a variety of medical problem. Treatment with bee pollen improved energy levels, relieved constipation and diarrhea and acted as a tranquilizer for hyperactive patients. Other effects were increased red blood cells and stress reduction at the cellular level.
Bee pollen reportedly promotes younger looking skin. Lars Erik Essen, M.D., a dermatologist in Halsingborg, Sweden, said that pollen exerts a processes that prevent premature aging of cells and stimulates new skin tissue. Dr. Essen said that bee pollen helps deliver more blood to the skin cells guarding against dehydration and shallow wrinkles.
Medical Miracles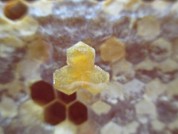 Researchers say that there is a substance in bee pollen that inhibits the development of many harmful bacteria. Experiments show bee pollen contains an antibiotic agent that fights salmonella and other bacteria strains. On the clinical level, studies have shown that a regulatory effect on intestinal function can be attributed to bee pollen. The presence of a high proportion of cellulose and fiber in pollen, as well as the existence of antibiotic factors, helps explain this efficacious effect.
Lab animal studies also shown consuming of bee pollen has a good effect on blood composition. A considerable and simultaneous increase of both white and red blood cells is observed when bee pollen is given to anemic patients. Their levels of hemoglobin increase considerably.
How to Use Bee Pollen
Each golden granule is densely packed with live enzymes, just about every nutrient that has a name, and even some elements that have not been labeled by science. The average digestive system may not be accustomed to such intensely rich food. Beginners should introduce bee pollen into your diet slowly, a granule or two at a time. The granules should not be cooked. Do not add powdered granules to anything that would be exposed to heat. Heat kills the live enzymes and eliminates the nutritional value.
You can:
Powder an ounce or two of granules and add a spice like nutmeg or cinnamon to taste. Stir powdered granules into juices, or water sweetened with raw honey. Add to salad dressings or sprinkle whole or powdered granules on peanut butter with bread or crackers.
Before you take a full dose of pollen it is very important to test for a possible extreme allergic reaction. Ingest just one pellet. Then gradually build up over a week or so to the correct dose. The best pollen dose varies with personal needs. For allergy prevention about one teaspoon per day is almost all that is needed. You can gradually increase your dose to one tablespoon. This will give about five grams of protein which is a good addition if you already have some proteins in your meal.
Since your pollen contains some fats in it. It is important to keep it refrigerated.
Precautions and other Bee Pollen Facts
Those who are allergic to bees should avoid bee pollen (and other bee products).
Bee Pollen for your Pets
Bee pollen contains many healing components and has been used for centuries as a source of nourishment. Today it is used not only for achieving better human health, but also to improve the health of our canine friends. "
According to Alicia McWatters, Ph.D – "Bee pollen's popularity is increasing as more and more dog owners and breeders are recognizing its great potential.
Scientist-researcher Dr. Remy Chauvin of the Institute for Bee Culture in Bures-sur-Yvette, France fed  hundreds of animals over a period of two years by. Reporting to the French Academy of Medicine in 1956, Chauvin said, The use of bee pollen gave the animals increased vitality and improved "powers of reproduction" because of boosted fertility, without side effects.
References:
Wikipidia:
THE R-VALUES OF HONEY: POLLEN COEFFICIENT accessed Feb 2005
Reiter, R, THE COLORATION OF ANTHER AND CORBICULAR POLLEN, THE OHIO JOURNAL OF SCIENCE, VOL. XLVII JULY, 1947 No. 4, Camden, N. J.
Die Honig Macher ( in German )
Bienenweide Arbeitsblatt 207, Bieneninstitut Kirchhain, 2001
Tew, James Some Ohio Nectar and Pollen Producing Plants Ohio State University Extension Fact Sheet, 2000
Stahlman, Dana Honey Plants Flowering Plants/Trees 2004
Hodges, Dorothy; The pollen loads of the honeybee, Bee Research Association Limited, London, 1952
Lamp, Thomas; Bienennährpflanzen 1 : Gehölze Nov 1999; accessed 05/2005