Our hottest new product line is here. HOT HONEY! A delicious blend of raw honey with Chipotle & peppers for a sweet treat with heat.
SWEET FIRE HOT HONEY goes great on many dishes and snacks. Lord Byron's new Hot Honey line has two flavors; SWEET FIRE Hot Honey and our milder option SWEET MILD HEAT Hot Honey. Try them both. Order the combo pack! More flavors arriving soon!
Our HOT HONEY is our Raw Wild Flower Honey with Chipotle Peppers: this super charged hot honey contains everything natural & healthy with a variety of flavonoids and phenolic acids, which act as antioxidants, scavenging and eliminating free radicals. These antioxidant substances found in honey has been shown to be responsible for the antimicrobial and wound-healing properties. The heat comes from a specially crafted combination of peppers & chipotle peppers that are dried jalapeño pepper that originated in the area surrounding Mexico City. People that lived there before the Aztec civilization are thought to have invented it.
All of our honey products with flavors adhere to our high standards of being pure raw honey to bring you the most delicious and healthy culinary experience.
SWEET FIRE Hot Honey
Convenient daily use size: 12 oz.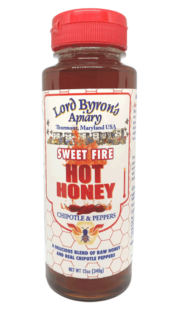 2 pack
$12.79 ea
($25.58 for 2 pk)
4 pack
$12.49 ea
($49.96 for 4 pk)
6 pack
$12.00 ea
($72.00 for 6 pk)
12 pack
$11.79 ea
($141.48 for 12 pk)
Flat rate shipping $9.29!
Big Red squeeze bottle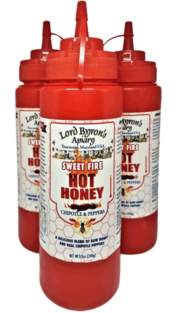 Big Red is a 22 oz. squeeze bottle of SWEET FIRE Hot Honey that is well suited for high volume use such as in restaurants.
1 squeeze bottle
$18.99
2 squeeze bottle
$17.50 ea
($35.00 for 2 pk)
4 squeeze bottle
$17.00 ea
($68.00 for 4 pk)
Great on: Fried Chicken, Fried Pickles, French Fries, Seafood, Shrimp, Crabs, Roasted, Veggies, Roasted Carrots, Dips & Dressings, Salads & Fruits, Cereal, Oatmeal, Eggs, Yogurt, Cheese, Ice Cream, Pizza or Ribs, Mexican Foods, Machaca, Discada tacos, Burritos, Salsa, Fried Plantains, Oriental Food,Szechuan, Hunan, Chongqing, Beijing Roasted Duck, Cocktails, & Teas
All our honey is natural pure raw honey.
Flat rate shipping $9.29!